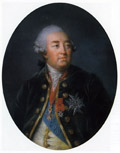 Louis Philippe, Duc d'Orléans-1779
Pastel on paper mounted on canvas, oval
31 1/2 x 24 3/8 in (80 x 62 cm)
Private collection, Paris
This is the original portrait completed from the sitting. Lived 1725-1785. Nicknamed the "Gros Duc". This portrait was displayed in the 2015 Paris Exhibition. Vigée Le Brun painted three copies of the original portrait (copy 1, copy 2,and copy 3) plus a portrait of his wife (below) on the site.