THE ACTOR LEKAIN, ca. 1778
Oil on canvas, oval: 24 1/2 x 22 1/4 inches (62 x 57 cm.)
Private Collection
Known by his stage-name of Lekain, Henri Louis Cain, (1729-1778) was perhaps the most famous tragic actor of ei hteenth-century French theater. Parisian by birth, he was the son of a goldsmith. He was practicing his father's trade when in 1750, while performing as an amateur actor, Voltaire took notice of him. The writer was so impressed that he trained Lekain personally on the stage of his private theater in the rue Traversiere. His sonorous voice and grandiloquent mannerisms had just the solemnity required by Voltairian roles. These were to become his specialty, and he appropriately made his debut as Titus in Voltaire's Brutus. Lekain accomplished major reforms in the French theater: he had spectator chairs permanently removed from the stage, introduced costumes in keeping with classical antiquity, and made acting more dramatic. In the course of his career, he traveled extensively in the French provinces and throughout Europe. He died at the age of fortynine.
Lekain was notoriously unattractive, with a long and puffy face, a high forehead, and a fleshy, sensual mouth. Mile Vigee first encountered him at the home of the old sculptor, Jean Baptiste Le Moyne: "I met the famous Lekain who looked so somber and fierce that he frightened me. His great eyebrows added to the unpleasant expression on his face. He didn't speak but ate voraciously. Next to him and facing me was the prettiest woman in Paris, Mme de Bonneuil .... Her delicate beauty had such charm that I could not take my eyes off her, all the more since she had been seated next to her husband who was as ugly as sin, and the faces of Lekain and M. de Bonneuil acted as a double foil for her" (Souvenirs, I, 40).
Subsequently the young artist attended several of Lekain's performances: "I remember perfectly well having seen the famous Lekain on the stage. Although I was too young at the time to appreciate his great talent, the applause, the unanimous outbursts that he aroused in the audience proved to me how superior he was as a tragedian. Lekain's ugliness, as prodigious as it was, disappeared in certain roles. The costume of a knight, for example, softened the harsh and repulsive expression of a face whose features were irregular, so that you could bear to look at him when he plaved Tancrede [title role in play by Voltaire]. But in the role of Orosmane [character in Voltaire's Zaire] in which I saw him once, I was seated near the stage, and the turban made him so hideous that, although I admired his noble and sensitive style of acting, he terrified me" (Souvenirs, I, 116).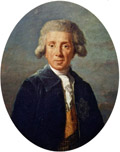 Figure 4
1782
Prince Heinrich of Prussia
Private Collection, France
Art Page 106

Vigee Le Brun must have greatly embellished Lekain, for here he appears quite genial and in no way as hideous as her writings suggest. Another portrait of him, attributed to Roslin, and now in the Comedie Francaise, Paris (illus. in Baillio, 1982, p. 22, fi-. 16) is equallv flattering. A comparison of the two unequivocally establishes the sitter's identity. The painting itself was for many years misattributed to Duplessis. Its reassignment to Vig6e Le Brun, initially based on stylistic grounds, was later supported by the discovery of an old photograph showing the painting in its original frame, inscribed with the names of both sitter and artist: "MME VIGEE-LEBRUN - H.L. LEKAIN/ COMEDIEN ORDINAIRE DU ROY."

If done from life, the portrait would have to date from the last years of the actor's life. In terms of technique and composition, it is very close to the artist's portrait of Prince Heinrich of Prussia (fig. 4). The portrait of Lekain mav have been painted posthumously; Vige'e Le Brun painted a number of such portraits "from memory" (see Souvenirs, III, 353), the most notable example being that of the Marquis de Chastellux dating from 1789 (illus. in exhibition catalogue: Washington, National Portrait Gallery, Abroad in America: Visitors to the Nezo World, 1976, no. 1).

PROVENANCE: Private collection, France.

REFERENCE: Baillio, 1982, pp. 19-20, illus. p. 22, fig. 15.