THE DUCHESSE D'ORLEANS, 1789
Oil on panel
431/4 x 33 inches (110 x 84 cm.)
Signed and dated upper right: Louise Le Brun f. 1789
Collection Monseigneur le Comte de Paris, Administrateur Delegue, Fondation Saint Louis, Chateau d'Amboise
For the sitter's biography, see cat. no. 6.
Paris was seething with revolutionary activity when the Salon opened its doors to the public on August 25, 1789. The exhibition had been a proving ground for Vigee Le Brun since she had first shown her works there in 1783. Over the years, the pressures of competition and adverse criticism had caused her to refine her technique, and she had become increasingly sensitive to trends in fashion and aesthetics. Many of her portraits had classicizing themes, while others were mood pieces reflecting sentimentalism "A la Rousseau."
The Memoires of the Baronne d'Oberkirsch (Paris, 1869, II, 67-68) describe the Duchesse d'Orleans as always wearing a "melancholic expression which nothing could cure. She sometimes smiled, she never laughed...." Vigee Le Brun made use of this melancholia in her characterization of the sitter. Dressed in virginal white, a reminder of her candeur, her head supported on her upraised arm, she is shown with a languid, sad expression. Vigee Le Brun was given free rein to costume her sitter according to the dictates of her own artistic sensibility. She eschewed the stiff and heavy court attire for the picturesque informality of a negligee. The Duchesse wears an ivory-colored, satin peignoir edged with bands of yellow silk, over a filmy underdress of striped muslin. The toque is improvised from a piece of this same material. The weight of the ash-blond sausage curls on the sitter's right shoulder is countered by the long, flowing strands of hair tippling over her left shoulder and falling below her waist. Again Vigee Le Brun has modulated the textures and colors with infinite subtlety. Below the breast is a Wedgwood medallion which Colin Eisler has identified as "Poor Maria," forlornly seated under a weeping willow with her faithful dog Sylvio, a subject inspired by Laurence Sterne's preromantic novel, A Sentimental Journey (C. Eisler, Paintings from the Samuel H. Kress Collection: European Schools, London, 1977, pg 361).
Mme Le Brun's contribution to the Salon was of astonishingly high quality. Among the pictures she presented to the selection jury were the powerful Portrait of Hubert Robert (fig. 35) and the tender Mme Rousseau and Her Daughter (Musee du Louvre, Paris) and the delightful Alexandrine Emilie Brongniart (fig. 2). However, none of her entries drew more favorable attention than the Duchesse d'Orleans. Its placement on the wafls of the Salon just below Caflet's full-length portrait of Louis XVI in coronation robes is indicated in Charles de Wailly's drawing of the exhibition rooms, now in the Musee Camavalet, Paris (see J. Wilhelm, "Un projet de Charles de Wailly...," Bulletin du Musge Carnavalet, No. 1, June 1963, p. 8). The painting's success was due not only to its artistic qualities, but also to the popularity of the Orleans faction with the liberal writers who were anonymously churning out most of the critiques hawked in the corridors of the Louvre and under the arcades of the Palais Royal. Implicit in their fulsome praise of the native-born Duchesse d'Orleans was a condemnation of the Austrian, Queen Marie Antoinette, whose reputation by that time had been irreparably sullied. The mellifluous phraseology of a pamphlet entitled Le Frondeur au Salon bears out this point:
My Aristarchus ... was silent. His soul, quietly moved, suddenly made a smile of admiration and pleasure expire on his lips .... Tears of joy filled his eyes. I share her emotion, my friend, he told me. How the charming image of this virtuous Princess, the Duchesse d'Orleans, fills my heart with rapture. Never has a more delightful feeling invaded my being and procured for me such sweet sensations! Amenity, beneficence, all the virtues combined have placed their throne upon her forehead where innocence and goodness also dwell. And Madame Le Brun has rendered all these sentiments with a divine expression. Adored Princess, as I addressed the Duchesse d'Orleans, the virtuous spouse of a citizen Prince who was first to abdicate the vain pride of illusory titles in order to assume that which virtue grants -a greatness a thousand times more glorious than that which is attributed by the highest birth and which alone places his immortal name beside those Princes famous for their good deeds and their love of the people -receive the tribute I dare offer you trembling. Your adorable image will remain engraved in all hearts as long as the memory of your virtues.
Another salonnier, the author of Les Eleves au Salon ou I'Amphigouri, speaks of the Duchesse in the same unctuously flattering tones:
Madame le Brun, my friend, is always astonishing. I do not doubt that she will win much approval. What contributes even more to her fame is the honor of having painted our illustrious Duchesse d'Orleans. She is a goddess, my friend, everyone stops to admire with deep veneration this virtuous woman, the idol of France .... Madame le Brun has perfectly captured the character of this Princess, at one and the same time she has painted her look of kindness and the profound sensitivity of her soul. Her subject could only inspire her; therefore her painting is striking. The portrait was so well received that the beautiful Marquise de Fresne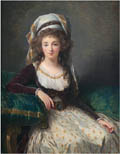 Figure 31
1789
Marquise de Fresne d'Aguesseau
National Gallery, Washington

S.H.Kress Collection
Art Page 8

d'Aguesseau asked that Mme Le Brun portray her similarly posed, wearing the Wedgwood medallion but with a more elaborate and colorful costume (fig. 31). That painting is now in the Kress Collection, National Gallery of Art, Washington (see Baillio, 1980, pp. 163-165). "Madame la duchesse d'Orleans" ranks eighth among the nearly forty names included in the artist's list of 1789. This signed and dated panel is the only autograph version of the portrait, yet it is the least known. The painting on canvas belonging to Versailles (inv. no. MV 3912) and on deposit at the Musee de Longchamp, Marseilles, has always passed for the original. Versailles also has an even weaker copy which has been incorrectly described as a "replica" (inv. no. MV 4525). A pastel version was recorded by Helm in the collection of E. M. Hodgkins. Several copies in miniature are known to exist: 1) by Frangois Soiron, sold Paris, Palais Galliera, Vente Panhard, December 5, 1975, lot 156; 2) attributed to L. Sicardi, in the Cabinet des Dessins, MusC-e du Louvre; 3) anonymous, in the Musee Cognacq-jay, Paris; 4) anonymous, sold Paris, Galerie Charpentier, Vente Lowenstein, December 17, 1935, lot 110; 5) attributed to Augustin, sold Paris, Galerie Georges Petit, Vente Mme de Poles, June 22-24, 1927, lot 34. The costume of the Duchesse d'Orleans is worn by Marie Antoinette in a fanciful nineteenth-century painting entitled Benjamin Franklin at the Court of Louis XVI, sold by Christie's, Grosse Pointe, Michigan, Sale of Anna Thomson Dodge, September 27-29, 1971, lot 636.

PROVENANCE: Collection of the sitter; given by her to her lady-in-waiting, Mary Charlotte Bridget Plunkett, Marquise de Chastellux (inscription on cartouche incorrectly dates this gift to 1788); collection of the Orleans family, by 1885; by inheritance to the present owner.

EXHIBITIONS: Paris, Salon, 1789, no. 77; Paris, Ecole Superieure des Beaux-Arts, Deuxieme exposition de portraits du siecle, 1885, no. 198; Paris, H6tel de Rohan, Louis -Philippe, 1974-1975, no. 42, illus. p 35.

REFERENCES: Salon criticism of 1789, anthologized in Collection Deloynes (Paris, Biblioth6que Nationale, Cabinet des Estampes), XVI: No. 410 - Observations Critiques sur les Tableaux du Sallon de I'Ann6e 1789, P. 29; No. 410 - Observations critiques sur les Tableaux du Sallon ... , p. 29; No. 416 - Les Eleves au Salon ou I'Amphigouri, pp. 21-23; No. 419 - Le Frondeur au Salon, pp. 273-275; No. 421 - journal de Paris, p. 303; No. 423 - Mercure de France, p. 381. Other Salon criticism: Correspondance littgraire, October 1789, p. 525; L'Annie litteraire, 1789, pp. 226-227. All subsequent literature treats the Versailles- Marseilles painting as the original.