THE MARQUISE DE GROLLIER, 1787-1788
Oil on panel: 363/16 x 281/4 inches (92 x 72.1 cm.)
Collection Comte Jean-Francois de Roussy de Sales, ChAteau de Thorens, Thorens-Glieres
Charlotte Eustache Sophie Faligny de Damas (1742-1828) was married at an early age to Pierre Louis, Marquis de Grollier, by whom she had at least two children, a son and a daughter. For her time, she was an extraordinarily well-educated woman, with a solid grounding in the Greek and Latin classics which she read in the original languages. Her interest in painting and horticulture induced her to take lessons from the most renowned flower painter of the day, Gerard van Spaendonck (1746-1822). According to Vigee Le Brun: "[Mme de Grollier] painted flowers superlatively. Far from being what is called an amateur artist, many of her paintings could be placed beside those of Wanspendev [sic], whose pupil she had been. She was marvelously eloquent when talking about painting... " (Souvenirs, I, 226-227).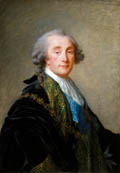 Figure 28
1787
Alexander Charles de Crussol, Metropolitan, New York
Art Page 2

The Marquise de Grollier was one of Vigee Le Brun's closest friends. "Just after my marriage I seldom went into society, preferring the intimate get-togethers of Mme de Grollier to large gatherings. It often happened ... that I would spend entire evenings with her" (Souvenirs, 1, 225-226.) During the Revolution, the Marquise remained faithful to the royal family, and she belonged to Marie Antoinette's inner circle of friends at the palace of the Tuileries. After immigrating to Germany via Switzerland, she lived in Florence and in Rome where the sculptor Canova nicknamed her the "Raphael of Flowers." She returned to France and at the end of her life resided in Paris at No. 2, rue de Beaune and at her country house in the village of Epinay. In her old age she lost her sight and hearing. (See Comtesse de Genlis, Mgmoires inedits Paris, 1825, VI, pp. 185-186; VII, pp. 242-244.)

Three distinct portraits of Mme de Grollier are mentioned in the artist's lists: one in 1788, a second in 1789, and another after her return to Paris. (The painting shown here is undoubtedly the prime version, if indeed others do exist.) In the same lists, each of the three precedes a portrait of Alexandre
Figure 29
1790
Self Portrait
Uffizi, Florence
Art Page 6

Charles Emmanuel'dUzes, Bailli de Crussol (1747-1815), for whom the Marquise de Grollier was for many years the cherished companion. His portrait by Vigee Le Brun (fig. 28), signed and dated 1787, is in The Metropolitan Museum of Art, New York. The two pictures, of superior quality, are painted on panel and are of approximately the same height. They were both owned by Mme de Grollier (the Bailli de Crussol was bequeathed by her to the Duchesse d'Uzes) and can be considered as pendants.

The aristocratic Marquise de Grollier is seated before a canvas upon which she has begun to paint a still life of flowers and fruit. Holding palette and brushes, she wears a dark blue silk gown tied around the waist with a broad band of red silk. This work - unpublished until now - prefigures Vigee Le Brun's famous Self-Portrait (fig. 29) painted in 1789-1790 for the Grand-Ducal collection in Florence.

DOCUMENT : Last will and testament of the Marquise de Grollier, drawn up by Maitre Simon Boulard, notary (copy in the Archives of Comte jean-Francois de Roussy de Sales, inv. no. J49-J.50,2') "je donne [A mad la marquise de Sales ma fillel ... mon portrait peint par mad e Le Brun et un portrait en petit de M. le Bailli de Crussol peint par Greuze." (Note: A portrait of the Bailli de Crussol by Greuze was recently recorded in the Philippe Aubertin collection.)

PROVENANCE: The Marquise de Grollier, until her death in 1828; bequeathed to her daughter, Alexandrine de Grollier, Marquise de Sales; to her daughter, Pauline Francoise de Sales, Comtesse Fe1ix Leonard de Roussy; by inheritance to the present owner.

REFERENCES: Souvenirs, 1, 335; Baillio 1980, p. 168, note 25.